Perfect portable screens from P3.9 to P12, with 180 degree folding feature.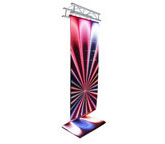 More Info & Video

Each module is made of soft LED strips that allows the module to be rolled to a compact size.

More Info

This foldable soft LED screen provides beautiful light patterns via 726 RGB LEDs in a 6.6'x9.8' backdrop by adding a card. A computer interface is available to show text on the screen.

More Info & Video