Wireless/Cordless Hyper Active™
Wireless Transmitter / Receiver™
Mini™

Wireless/Cordless Hyper Active™
Is the wedding ceremony going to be in a golf course, by the beach, or in the middle of nowhere? Is the team building outdoors? Will the congregation be away from the church? Is there a need for a PA system for the camp or sporting event away from any power source?
No problem! This 130-Watt (80-Watt RMS) independent audio system offers you the ultimate freedom in speaker placement location and no setup time. The 15" woofer and the 1" tweeter produce 100 to 15,000 Hz audio via a Class AB amplifier. The 12-Volt rechargeable sealed lead-acid battery provides power for up to 4 operating hours at middle volume position. External battery may be connected to the speaker to extend the operating time.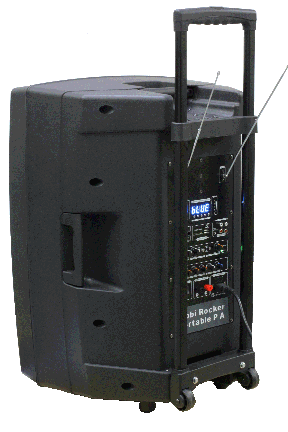 Size: 14.5" (W), 14.5" (D), 22" (H); Weight 60.2 lb
Included wireless microphones with 45' range are, one hand-held and one lapel type that take care of a wedding ceremony needs. The microphones' frequency range is 100 to 15,000 Hz that operates in 173.8 and 174.8 MHz ranges. There are also 2 inputs for external microphones. Play your 8 GB of digital music via USB and SD card (FAT 16 & FAT 32) . The system is also Bluetooth ready for wireless reception via a Smart Phone or Bluetooth player. Other inputs are for MP3 and RCA jacks. IR remote control is included.
Top View Bottom View