A micro digital amplifier provides 70 Watts of audio power via a 6.5" full range speaker. Use your smart media's Bluetooth to transmit your music wirelessly. Other digital inputs are USB and SD card of up to 8 GB og MP3 files. A pair of RCA inputs allow connection of any auxillary music source. If these are not enough, an FM radio is also built-in! You can preset up to 80 radio stations.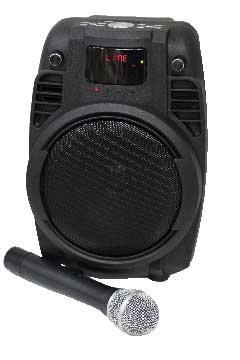 A wireless microphone is included and there is an input for a second microphone. There is an echo control knob for the microphone. Other controls are for microphone volume (in front and back side), music volume (in front and back side), bass and treble. An Infrared remote control gives you adjustment control over all functions. The rechargeable battery provides power between 4 and 10 hours of enjoyment. The recharging time is 3 hours.
The Mini's height is 13.2" (33.5 cm), it's width 8.3" (21 cm), and it's depth 10" (25.5 cm). With the microphone, it weighs only 8.3 lb, 3.75kg.